The Cowfish Sushi Burger Bar is ready to bring to the world great sushi AND great burgers... all under one roof in Raleigh, NC!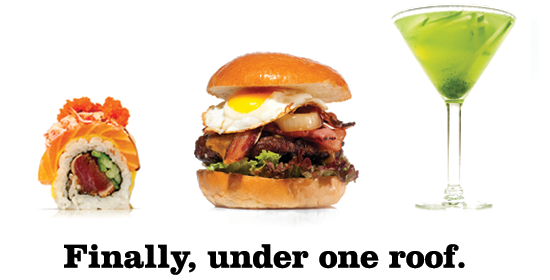 You and up to three guests are invited to taste and experience The Cowfish Sushi Burger Bar Raleigh before the rest of the planet! The soft opening will be an opportunity for our team to continue training through standard table service. As an attendee, you will arrive for your reservation no earlier than 30 minutes ahead of your reservation time. Feel free to grab a drink and check out the space as you wait to be seated. Upon being seated, one of our servers in training will walk you through the menu and help you find a dish you'll love.

This special event will last 2 days only:
Friday, April 12th (lunch and dinner)
Saturday, April 13th (lunch)

RESERVATIONS ARE AVAILABLE ON A FIRST COME, FIRST SERVE BASIS. Lunch seatings will begin at 11:30am and end at 2:00pm. Friday night dinner seatings will begin at 5:30pm and end at 9pm. Plan on your Soft Opening experience to last from 1 1/2 to 2 hours.




As our guest, all food and non-alcoholic beverages will be complimentary. Alcoholic beverages will be available at regular menu prices. Click here to preview our menu.

Per 4-person table, guests will order:
1 Appetizer for the table
1 Entree per person
1 Dessert for the table







The Cowfish at North Hills Mall - Raleigh, NC


North Hills Mall - CAPTRUST Tower
4208 Six Forks Road, Suite 100
Raleigh, NC 27609 (map)

We look forward to having you join us for this special event at The Cowfish Raleigh. Reserve your seats now using the form to the right. We can't wait to hear valuable feedback from the soft opening event! Please note, if you have any friends in the Raleigh area that may be interested in attending, feel free to forward this invite along to them.

PLEASE JOIN US FOR OUR GRAND OPENING ON APRIL 15TH!