include("../header.php"); ?>

We'd love to have you join us for dinner! Reservations are available at each Cowfish location from 11am-6pm, 7 days a week. During this time, reservations are limited to 1/3 of our indoor dining room, with the remainder of the restaurant set aside for walk-in traffic. Reservations are not available after 6pm. In addition, same day reservations are not available. After 6pm, the entire restaurant is available to walk-in traffic, as a means to minimize guest wait times.
To request a reservation, please call one of The Cowfish locations below and submit your request through our reservation voice message system. A member of our staff will respond to your request within 24 hours and confirm that the reservation is active, or assist you with finding another time that may be available in the case that your original request cannot be accommodated.
The Cowfish at SouthPark Mall
Please call 704-365-1922

4310 Sharon Road
Charlotte, NC 28211 (map)
The Cowfish at North Hills
Please call 919-784-0400

4208 Six Forks Road, Suite 100
Raleigh, NC 27609 (map)
With a large patio, and ample seats available for dining around our sushi and main bars, don't hesitate to head on over to The Cowfish if reserved seating is all booked up. Hope to see you soon!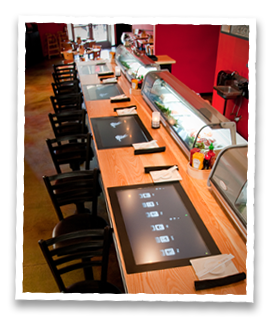 include("../footer.php"); ?>