The Cowfish at SouthPark Mall - Charlotte, NC

4310 Sharon Road
Charlotte, NC 28211
(map)
Tel: 704-365-1922
Fax: 704-365-1924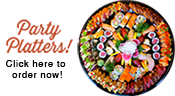 Located at SouthPark Mall, near Crate & Barrel.
Join The Cowfish Charlotte email list for coupons and specials!


Hours to Devour
Sunday-Thursday from 11am-10pm
Friday & Saturday from 11am-11pm

Think you've got what it takes to be part of The Cowfish team?
Click here to download
our employment application for the Charlotte location today!

Questions or comments for the Charlotte location? Please feel free to contact us!